Welcome to Theatrecraft Herne Bay
Theatrecraft Herne Bay is an award winning amateur dramatic society based in Herne Bay, Kent.
We have been entertaining local audiences since 1948 and put on three major productions each year: a play, a musical and Herne Bay's annual pantomime.
Latest News
Our next show is our annual pantomime. This year we're proud to present Puss in Boots!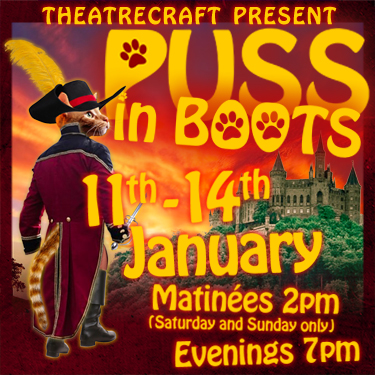 A show based on the traditional story and written by Cheryl Marksford, who wrote last year's pantomime, Aladdin.
Nick, the late miller's youngest son, inherits a magical cat with a gift of the gab. Soon Nick and Puss are embroiled in a complex scheme to persuade the King and Queen that Nick (masquerading as the Marquis of Carabas) is suitable husband material for the Princess Scarlett. But to win her hand, nick has to contend with a jealous suitor in the shape of an ogre.
Tickets available via Ticketsource (available from 17th September)
Or phone 07842 535596