Welcome to Theatrecraft Herne Bay
Theatrecraft Herne Bay is an award winning amateur dramatic society based in Herne Bay, Kent.
We have been entertaining local audiences since 1948 and put on three major productions each year: a play, a musical and Herne Bay's annual pantomime.
Latest News
Made in D

agenham - The

King's Hall Theatre, Herne Bay
Wednesday, 6th July until Saturday, 9th July 2022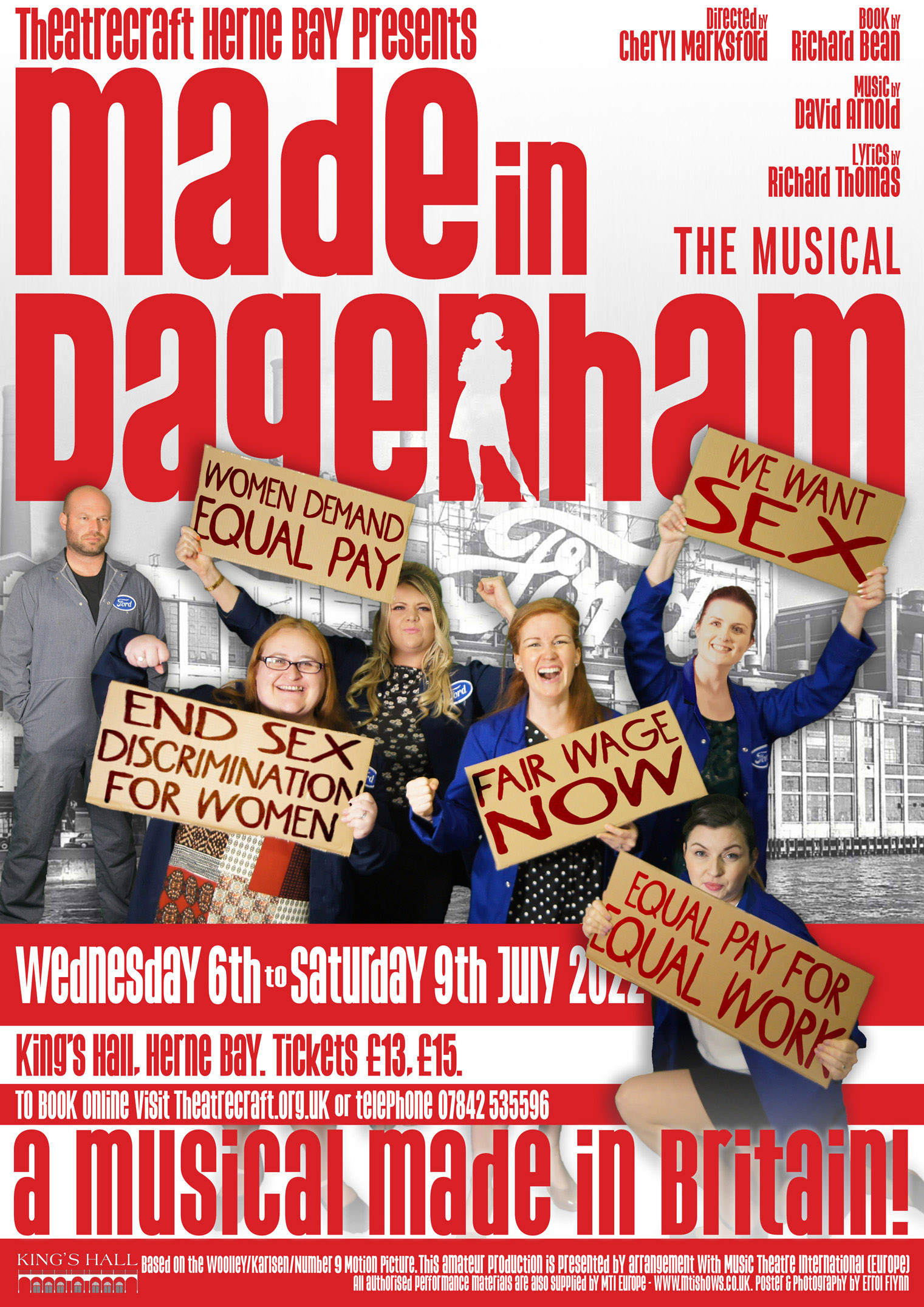 Hailed as the best British musical since Billy Elliott, Theatrecraft is bringing this award nominated show to Herne Bay for five fantastic performances only.
Following on from our sell out productions of Jesus Christ Superstar and The Who's Tommy, which were both met with standing ovations, and even a Musical Award of Excellence, this is live theatre you will not want to miss.
Inspired by a true story and based on the hit movie, Made in Dagenham is an uplifting musical comedy about friendship, love and the importance of fighting for what is right.
Set in 1968, it tells the true story of how the women in the stitching room at Ford's Dagenham car plant came out on strike for equal pay. And in doing so took on the full might of Ford, the British Government and the corruption of the Union supposed to protect them and WON!!!
Funny, touching and timeless, Made in Dagenham shows how ordinary people can do extraordinary things when they stand together!
Performances:
Wednesday, 6th July - 7.30 pm - £13.00
Thursday, 7th July - 7.30 pm - £15.00 (£13.00 concessions)
Friday 8th July - 7.30 pm - £15.00 (£13.00 concessions)
Saturday 9th July- 2.30 pm and 7.30 pm - £15.00 (£13.00 concessions)

Aladdin, The Pantomime - The King's Hall Theatre, Herne Bay
Thursday, 12th January 2023 until Sunday, 15th January 2023

Theatrecraft's annual pantomime is coming to The King's Hall for five fantastic performances.
Packed with all of the traditional pantomime ingredients audiences expect, Aladdin will feature laugh-out-loud comedy, foot-tapping songs, plenty of boos and hisses and a live band. So come and follow Aladdin on a spectacular adventure.
Performances:
Thursday, 12th January - 7.00 pm - All Tickets £8.00
Friday, 13th January - 7.00 pm - £10.00 (£8.00 children and concessions)
Saturday, 14th January - 2.00 pm and 7.00 pm - £10.00 (£8.00 children and concessions)
Sunday, 15th January - 2.00 pm - £10.00 (£8.00 children and concessions)